Welcome to the ICOMOS Open Archive: EPrints on Cultural Heritage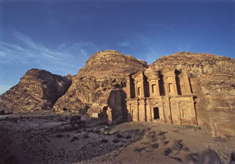 Petra, Jordan
Welcome to the ICOMOS Open Archive: Eprints on Cultural Heritage, a global archive specialising in the conservation and restoration of monuments, sites and landscapes.
It is both the institutional archive of the scientific documentation produced by the International Council on Monuments and Sites (ICOMOS) and also a subject archive open to the entire international scientific community in the field of heritage conservation. Research institutes, organizations, universities and individual researchers involved in the conservation of cultural heritage and related fields, whether members of ICOMOS or not, are encouraged to make use of and contribute to this global Archive.
The ICOMOS Open Archive accepts peer reviewed scientific or technical documents, in all languages, on topics related to the field of conservation and restoration of monuments, sites and landscapes. The only requirement is that authors wishing to submit a document must register for an account.
Latest Additions
1.
(2016) Problemática, acciones y retos: Gestión y manejo del Patrimonio Mundial en México. Other. INAH 138p. ISBN 978-607-484-860-1. [Book]
2.

Selmo, David

,

Sturt, Fraser

,

Miles, James

,

Basford, Philip

,

Malzbender, Tom

,

Martinez, Kirk

,

Thompson, Charlie

,

Earl, Graeme

and

Bevan, George

(2017) Underwater reflectance transformation imaging: a technology for in situ underwater cultural heritage object-level recording. Journal of Electronic Imaging, 26 (1). [Article]
3.

Editor : Sankovic Simcic, Vjekoslava

(2016) Savremene percepcije kulturnog naslijeda Austro-Ugarske u Bosni i Hercegovini. Radovi sa simpozija od 22.novembra 2014.u Sarajevu.Contemporary perception of the Austro-Hungarian cultural heritage in Bosnia and Herzegovina. Proceedings of the Symposium from 22nd November 2014 in Sarajevo. (Publication written in two alphabets Latin and Cyrillics). Conference Volume. ICOMOS Bosnia and Herzegovina 244p. ISBN 978-9958-9094-7-4 (electronic version). [Book]
4.
Direccion de Patrimonio Mundial (2016) Hereditas. , 25-26. 104p . ISSN 2448-6841 [Journal]
5.
(2017) ICOMOS Guidance on Post trauma recovery and reconstruction for World Heritage Cultural Properties. Working Paper. ICOMOS 16p. [Book] (Unpublished)
This repository contains 1323 deposited items.
ICOMOS Open Archive: EPrints on Cultural Heritage supports OAI 2.0 with a base URL of http://openarchive.icomos.org/cgi/oai2