Welcome to the ICOMOS Open Archive: EPrints on Cultural Heritage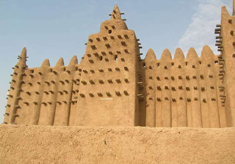 Old Towns of Djenné, Mali
Welcome to the ICOMOS Open Archive: Eprints on Cultural Heritage, a global archive specialising in the conservation and restoration of monuments, sites and landscapes.
It is both the institutional archive of the scientific documentation produced by the International Council on Monuments and Sites (ICOMOS) and also a subject archive open to the entire international scientific community in the field of heritage conservation. Research institutes, organizations, universities and individual researchers involved in the conservation of cultural heritage and related fields, whether members of ICOMOS or not, are encouraged to make use of and contribute to this global Archive.
The ICOMOS Open Archive accepts peer reviewed scientific or technical documents, in all languages, on topics related to the field of conservation and restoration of monuments, sites and landscapes. The only requirement is that authors wishing to submit a document must register for an account.
Latest Additions
1.

Shahidan, Shaiful Idzwan

(2018) Rapporteur's Report for ICOMOS Malaysia World Heritage Day Open Debate 2018 - 10 Years into the Inscription of Melaka and George Town as World Heritage Sites: The Good, The Bad & The Unintended. In: ICOMOS Malaysia Open Debate 2018, 28 April 2018, Badan Warisan Malaysia, No. 2 Jalan Stonor, Kuala Lumpur, Malaysia. [Conference or Workshop Item]
2.

N/A, N/A

(2015) PLANIFICATION URBAINE & PATRIMOINE MONDIAL - ACTES DU SÉMINAIRE TECHNIQUE DU 22 01 2014. In: Séminaire technique, 22 01 2014, Paris, La Défense. [Conference or Workshop Item]
3.

López César, Isaac

and

Estévez Cimadevila, Javier

(2018) Las Exposiciones Universales. Cinco enfoques estructurales = World Expos. Five structural approaches. ESTOA, Revista de la Facultad de Arquitectura y Urbanismo de la Universidad de Cuenca, 7 (13). pp. 7-22. ISSN 1390-9274 [Article]
4.

Pougatchenkova, Galina

(1974) Les monuments de Samarkand : protection, études, restauration. Monumentum . [Article] (Unpublished)
5.
(2015) Keeping history alive: Safeguarding cultural heritage in post-conflict Afghanistan. Working Paper. UNESCO / UNESCO Office in Kabul, Paris, France / Kabul, Afghanistan, 253p. ISBN 978-92-3-100064-5. [Book]
This repository contains 1409 deposited items.
ICOMOS Open Archive: EPrints on Cultural Heritage supports OAI 2.0 with a base URL of http://openarchive.icomos.org/cgi/oai2