Welcome to the ICOMOS Open Archive: EPrints on Cultural Heritage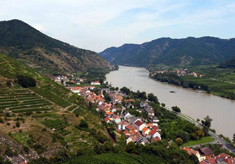 Wachau Cultural Landscape, Austria
Welcome to the ICOMOS Open Archive: Eprints on Cultural Heritage, a global archive specialising in the conservation and restoration of monuments, sites and landscapes.
It is both the institutional archive of the scientific documentation produced by the International Council on Monuments and Sites (ICOMOS) and also a subject archive open to the entire international scientific community in the field of heritage conservation. Research institutes, organizations, universities and individual researchers involved in the conservation of cultural heritage and related fields, whether members of ICOMOS or not, are encouraged to make use of and contribute to this global Archive.
The ICOMOS Open Archive accepts peer reviewed scientific or technical documents, in all languages, on topics related to the field of conservation and restoration of monuments, sites and landscapes. The only requirement is that authors wishing to submit a document must register for an account.
Latest Additions
1.

GIPRI, GIPRI Colombia

and

Arge, ARGE

Catalogación, Registro Sistemático De las pinturas rupestres concesión minera 14986 y GKH-081.CIUDADELA SUCRE MUNICIPIO DE SOACHA CUNDINAMARCA REGISTRO DE PICTOGRAMAS Y DIAGNÓSTICO DE ALTERACIONES. Corporacion GIPRI colombia. [Other] (Unpublished)
2.

López César, Isaac

(2014) La aportación estructural del Crystal Palace de la Exposición Universal de Londres 1851. Una ampliación del enfoque histórico tradicional. The structural contribution of the Crystal Palace to the 1851 Great Exhibition held in London. An extension of the traditional historical approach. RITA Revista Indexada de Textos Académicos (2). pp. 76-83. ISSN 2340-9711 [Article]
3.

Martinez Celis, Diego

and

Mendoza Lafaurie, Sandra

(2014) SUTATAUSA: MEMORIA del encuentro de DOS MUNDOS. Documentation. Diego Martínez Celis, Bogotá, 140p. [Book] (In Press)
4.

Chabbi, Amel

,

Jerome, Pamela

,

Jigyasu, Rohit

,

Kelley, Stephen J.

and

Reap, James K.

(2014) Tangible Risks, Intangible Opportunities: Long-term Risk Preparedness and Responses for Threats to Cultural Heritage. In: ICOMOS Advisory Committee Scientific Symposium, 31 October 2012, Beijing, China. [Conference or Workshop Item] (In Press)
5.
UNSPECIFIED (2014) E-conservation journal. , 2. ISSN 2183‐1335 [Journal]
This repository contains 1213 deposited items.
ICOMOS Open Archive: EPrints on Cultural Heritage supports OAI 2.0 with a base URL of http://openarchive.icomos.org/cgi/oai2