Welcome to the ICOMOS Open Archive: EPrints on Cultural Heritage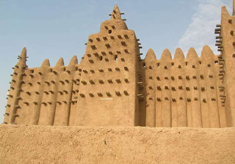 Old Towns of Djenné, Mali
Welcome to the ICOMOS Open Archive: Eprints on Cultural Heritage, a global archive specialising in the conservation and restoration of monuments, sites and landscapes.
It is both the institutional archive of the scientific documentation produced by the International Council on Monuments and Sites (ICOMOS) and also a subject archive open to the entire international scientific community in the field of heritage conservation. Research institutes, organizations, universities and individual researchers involved in the conservation of cultural heritage and related fields, whether members of ICOMOS or not, are encouraged to make use of and contribute to this global Archive.
The ICOMOS Open Archive accepts peer reviewed scientific or technical documents, in all languages, on topics related to the field of conservation and restoration of monuments, sites and landscapes. The only requirement is that authors wishing to submit a document must register for an account.
Latest Additions
1.

Vidargas, Francisco

(2005) El gremio de plateros y las fiestas inmaculistas. Ventana interior, VI (32). pp. 44-48. [Article]
2.

Osorio, Katti

(2010) Research on timber frame buildings in Panama City. Journal of Architecture and Planning (Transactions of AIJ), 75 (650). pp. 989-995. ISSN 1340-4210 [Article]
3.

Santagati, Cettina

,

Inzerillo, Laura

and

Di Paola, Francesco

(2013) IMAGE-BASED MODELING TECHNIQUES FOR ARCHITECTURAL HERITAGE 3D DIGITALIZATION: LIMITS AND POTENTIALITIES. International Archives of the Photogrammetry, Remote Sensing and Spatial Information Sciences, XL-5 (w2). pp. 555-560. ISSN 2194-9034 [Article] Item availability may be restricted.

4.

Marriner, Harry A

(2006) Rock Art In San Francisco, Cundinamarca, Colombia. In: GIPRI. [Conference or Workshop Item] (Unpublished)

5.

Herrera Quiroz, Lesslie Astrid

(2013) Paisaje cultural entorno a la Antigua Guatemala. América Patrimonio (5). pp. 84-97. ISSN 0719-0182 [Article]
This repository contains 1168 deposited items.
ICOMOS Open Archive: EPrints on Cultural Heritage supports OAI 2.0 with a base URL of http://openarchive.icomos.org/cgi/oai2