Welcome to the ICOMOS Open Archive: EPrints on Cultural Heritage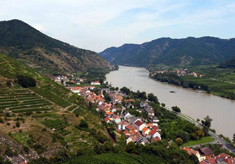 Wachau Cultural Landscape, Austria
Welcome to the ICOMOS Open Archive: Eprints on Cultural Heritage, a global archive specialising in the conservation and restoration of monuments, sites and landscapes.
It is both the institutional archive of the scientific documentation produced by the International Council on Monuments and Sites (ICOMOS) and also a subject archive open to the entire international scientific community in the field of heritage conservation. Research institutes, organizations, universities and individual researchers involved in the conservation of cultural heritage and related fields, whether members of ICOMOS or not, are encouraged to make use of and contribute to this global Archive.
The ICOMOS Open Archive accepts peer reviewed scientific or technical documents, in all languages, on topics related to the field of conservation and restoration of monuments, sites and landscapes. The only requirement is that authors wishing to submit a document must register for an account.
Latest Additions
1.
Dirección de Patrimonio Mundial (2014) Hereditas 21/22. , 21/22. 100p . [Journal]
2.

Martinez Celis, Diego

,

Herrera, Everardo

,

Jimenez, Juliana

,

Mahecha, Jhon

,

Guerrero, José Leonardo

,

Jimenez, Emmanuela

,

Gómez, javier

,

Rozo, Angie

,

Gutierrez, Carolina

,

Sabogal, Ángela

and

Carvajal, Mauricio

(2014) Inventario y registro participativo de arte rupestre del Corregimiento 2 de Soacha (Cundinamarca). Diego Martínez Celis, Soacha, Cundinamarca. [Other] (Unpublished)
3.
(1966) REPORT ON THE CONSTITUTIVE ASSEMBLY HELD IN WARSAW THE 21st AND 22nd JUNE 1965 / COMPTE RENDU DE L'ASSEMBLÉE CONSTITUTIVE TENUE A VARSOVIE LES 21 ET 22 JUIN 1965. Conference Volume. ICOMOS, Paris, 46p. Scientific Symposium (ICOMOS General Assemblies), [Book]
4.

López Morales, Francisco Javier (ed.)

and

Vidargas, Francisco (ed.)

(2014) Los nuevos paradigmas de la conservación del patrimonio cultural. 50 años de la Carta de Venecia. Conference Volume. Instituto Nacional de Antropología e Historia, Mexico, 308p. ISBN 978-607-484-533-4. [Book]
5.

Muñoz, Guillermo

,

Trujillo, Judith

,

Rodriguez Martinez, Carlos Augusto

and

Riveros, Nina

(2012) Búsqueda, Documentación y Estudio Arte Rupestre del Municipio de Sutatausa, Cundinamarca. Convenio IDECUT Gobernación de Cundinamarca, Municipio Sutatausa Corporación GIPRI Colombia. Instituto departamental de cultura y turismo Cundinamarca Colombia. [Other] (Unpublished)
This repository contains 1225 deposited items.
ICOMOS Open Archive: EPrints on Cultural Heritage supports OAI 2.0 with a base URL of http://openarchive.icomos.org/cgi/oai2