Welcome to the ICOMOS Open Archive: EPrints on Cultural Heritage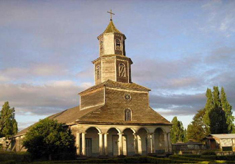 Iglesia de Chiloé, Chile
Welcome to the ICOMOS Open Archive: Eprints on Cultural Heritage, a global archive specialising in the conservation and restoration of monuments, sites and landscapes.
It is both the institutional archive of the scientific documentation produced by the International Council on Monuments and Sites (ICOMOS) and also a subject archive open to the entire international scientific community in the field of heritage conservation. Research institutes, organizations, universities and individual researchers involved in the conservation of cultural heritage and related fields, whether members of ICOMOS or not, are encouraged to make use of and contribute to this global Archive.
The ICOMOS Open Archive accepts peer reviewed scientific or technical documents, in all languages, on topics related to the field of conservation and restoration of monuments, sites and landscapes. The only requirement is that authors wishing to submit a document must register for an account.
Latest Additions
1.

Muñoz, Guillermo

,

Trujillo, Judith

and

Rodriguez M, Carlos

(2015) Catalogación, Registro Sistemático de las pinturas rupestres. Componente Arqueológico para El Proyecto Urbanístico. Santa Rita, Municipio De Soacha, Cundinamarca. Prospección Arqueológica para el Sector 5 y Diagnóstico de Arte Rupestre LIcencia 5015. Informe julio 2015. Arge GIPRI. [Other] (Unpublished)
2.

Argüello Garcia, Pedro María

,

Botiva Contreras, Alvaro

and

Perez Barajas, Susan

(2007) Registro del estado actual de las pinturas rupestres del Parque Arqueológico de Facatativa, Cundinamarca, Colombia. N.A, Bogota. [Other] (Unpublished)
3.
UNSPECIFIED (2015) América Patrimonio, 7 (2015). , 7. 163p . ISSN 0719-0182 [Journal]
4.
(2015) Connecting Practice Project: Final Report. Technical Report. IUCN 18p. [Book]
5.
UNSPECIFIED (1996) Les cahiers de la section française de l'ICOMOS. , 16. 223p . [Journal]
This repository contains 1248 deposited items.
ICOMOS Open Archive: EPrints on Cultural Heritage supports OAI 2.0 with a base URL of http://openarchive.icomos.org/cgi/oai2