Welcome to the ICOMOS Open Archive: EPrints on Cultural Heritage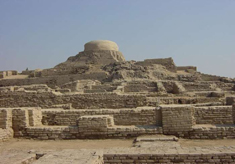 Archaeological Ruins at Moenjodaro, Pakistan
Welcome to the ICOMOS Open Archive: Eprints on Cultural Heritage, a global archive specialising in the conservation and restoration of monuments, sites and landscapes.
It is both the institutional archive of the scientific documentation produced by the International Council on Monuments and Sites (ICOMOS) and also a subject archive open to the entire international scientific community in the field of heritage conservation. Research institutes, organizations, universities and individual researchers involved in the conservation of cultural heritage and related fields, whether members of ICOMOS or not, are encouraged to make use of and contribute to this global Archive.
The ICOMOS Open Archive accepts peer reviewed scientific or technical documents, in all languages, on topics related to the field of conservation and restoration of monuments, sites and landscapes. The only requirement is that authors wishing to submit a document must register for an account.
Latest Additions
1.
(2017) Community Involvement in Heritage Management. Manual. Stadt Regensburg, Planning and Building Division, World Heritage Coordination, OWHC Regional Secretariat, Regensburg, Germany, 70p. [Book]
2.

Wijesuriya, Gamini

(2017) Towards the de-secularisation of heritage. Built Heritage (2). pp. 1-15. [Article]

3.

Niglio, Olimpia

(2017) Knowing, preserving and enhancing. The cultural-religious heritage. AlmaTourism - Journal of Tourism, Culture and Territorial Development, 8 (15). pp. 152-156. ISSN 2036-5195 [Article]
4.

Osorio, Katti

(2016) Génesis de una propiedad del Patrimonio Mundial: El Mar del Sur y el "Sitio Arqueológico de Panamá Viejo y Distrito Histórico de Panamá". In: Memoria - Encuentro· El Mar del Sur: 500 Años Después, una visión interdisciplinaria. Editorial Universitaria Carlos Manuel Gasteazoro, Panamá, Panamá, pp. 79-94. ISBN 978-9962-53-271-2 [Book Section]
5.

Osorio, Katti

(2014) Testimonio de la Muralla de la Ciudad de Panamá en la Formación de la Identidad Panameña. Cuadernos Nacionales (23). pp. 85-94. ISSN 1810-5491 [Article]
This repository contains 1346 deposited items.
ICOMOS Open Archive: EPrints on Cultural Heritage supports OAI 2.0 with a base URL of http://openarchive.icomos.org/cgi/oai2