Welcome to the ICOMOS Open Archive: EPrints on Cultural Heritage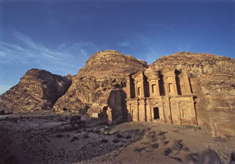 Petra, Jordan
Welcome to the ICOMOS Open Archive: Eprints on Cultural Heritage, a global archive specialising in the conservation and restoration of monuments, sites and landscapes.
It is both the institutional archive of the scientific documentation produced by the International Council on Monuments and Sites (ICOMOS) and also a subject archive open to the entire international scientific community in the field of heritage conservation. Research institutes, organizations, universities and individual researchers involved in the conservation of cultural heritage and related fields, whether members of ICOMOS or not, are encouraged to make use of and contribute to this global Archive.
The ICOMOS Open Archive accepts peer reviewed scientific or technical documents, in all languages, on topics related to the field of conservation and restoration of monuments, sites and landscapes. The only requirement is that authors wishing to submit a document must register for an account.
Latest Additions
1.
(2017) Case studies carried out within the 'Our Common Dignity Initiative 2011-2016: Rights-Based Approaches in World Heritage'. Technical Report. ICOMOS Norge, Oslo, 28p. [Book]
2.
(2017) REPORT: The Advisory Body "Our Common Dignity Initiative" on Rights-based approaches in World Heritage: Taking stock and looking forward. Project Report. ICOMOS Norway, Oslo, 28p. [Book]
3.
(2016) Culture: Urban future. Global report on culture for sustainable urban development. Manual. UNESCO, Paris France, 303p. ISBN 978-92-3-100170-3. [Book]
4.
Historic Scotland, Technical Conservation, Research and Education Group (2007) INFORM guide: information for historic building owners. Gilding Techniques, Care and Maintenance. . 8p . [Journal]
5.

Macaux, Alice

(2011) Le projet de reconstruction du château de la ville de Berlin [Berliner Stadtschloss] - Réflexion sur les problèmes soulevés par la reconstruction de monuments historiques. EngD thesis, Université Paris 1 Panthéon-Sorbonne. [Thesis]
This repository contains 1355 deposited items.
ICOMOS Open Archive: EPrints on Cultural Heritage supports OAI 2.0 with a base URL of http://openarchive.icomos.org/cgi/oai2