Welcome to the ICOMOS Open Archive: EPrints on Cultural Heritage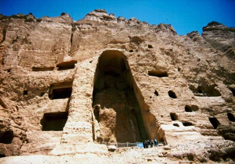 Bamiyan Buddha Statue, Afghanistan
Welcome to the ICOMOS Open Archive: Eprints on Cultural Heritage, a global archive specialising in the conservation and restoration of monuments, sites and landscapes.
It is both the institutional archive of the scientific documentation produced by the International Council on Monuments and Sites (ICOMOS) and also a subject archive open to the entire international scientific community in the field of heritage conservation. Research institutes, organizations, universities and individual researchers involved in the conservation of cultural heritage and related fields, whether members of ICOMOS or not, are encouraged to make use of and contribute to this global Archive.
The ICOMOS Open Archive accepts peer reviewed scientific or technical documents, in all languages, on topics related to the field of conservation and restoration of monuments, sites and landscapes. The only requirement is that authors wishing to submit a document must register for an account.
Latest Additions
1.
Direccion de Patrimonio Mundial (2016) Hereditas. , 25-26. 104p . ISSN 2448-6841 [Journal]
2.
(2017) ICOMOS Guidance on Post trauma recovery and reconstruction for World Heritage Cultural Properties. Working Paper. ICOMOS 16p. [Book] (Unpublished)
3.
(2014) Extended abstracts of the International Colloquium Visitor management and carrying capacity at World heritage sites in China,17-19 May 2013 Mogao Grottoes,Dunhuang. Documentation. The Getty Conservation Institute 166p. [Book]
4.

Dominguez, Virginia R.

,

Silverman, Helaine

,

Reuben, Grima

,

Assaad, Seif

,

Webber, Ndoro

,

Lilley, Ian

,

Lertcharnrit, Thanik

,

Higueras, Alvaro

,

Moyer, Teresa S.

,

Gadsby, David A.

and

Morris, Stephen

(2017) World Anthropologies. Special section on Cultural Heritage/Management. American Anthropologist, 119 (1). pp. 122-140. ISSN 1548-143 [Article]
5.
(2015) Our common heritage, for a National World heritage Strategy 2015-2025. Documentation. Finnish Ministry of Education, Finland, 37p. ISBN 978-952-2633545 (online). [Book]
This repository contains 1320 deposited items.
ICOMOS Open Archive: EPrints on Cultural Heritage supports OAI 2.0 with a base URL of http://openarchive.icomos.org/cgi/oai2