Welcome to the ICOMOS Open Archive: EPrints on Cultural Heritage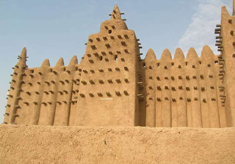 Old Towns of Djenné, Mali
Welcome to the ICOMOS Open Archive: Eprints on Cultural Heritage, a global archive specialising in the conservation and restoration of monuments, sites and landscapes.
It is both the institutional archive of the scientific documentation produced by the International Council on Monuments and Sites (ICOMOS) and also a subject archive open to the entire international scientific community in the field of heritage conservation. Research institutes, organizations, universities and individual researchers involved in the conservation of cultural heritage and related fields, whether members of ICOMOS or not, are encouraged to make use of and contribute to this global Archive.
The ICOMOS Open Archive accepts peer reviewed scientific or technical documents, in all languages, on topics related to the field of conservation and restoration of monuments, sites and landscapes. The only requirement is that authors wishing to submit a document must register for an account.
Latest Additions
1.

Bostenaru Dan, Maria

and

Panagopoulos, Thomas

(2014) Digital modeling of the impact of the 1755 Lisbon earthquake. Project Report. "Ion Mincu" Publishing House, Bucharest, 118p. ISBN 978-606-638-085-0. [Book]
2.
(2013) Convenciones Unesco. Una visión articulada desde Iberoamérica. Conference Volume. Instituto Nacional de Antropología e Historia, México, 300p. ISBN 978-607-484-460-3. [Book]
3.

Vérité, Jacques

(2014) Recherches sur le Mausolee de Gasr Ed Douirat reconstruit à Leptis Magna en Libye : Nouvelle restitution et étude d'un monument baroque expressionniste de la modernité sévérienne à décor mithriaque [new file uploaded on March 28 2014 - errors rectified]. N/A . [Article] (Unpublished)
4.
Dirección de Patrimonio Mundial (2013) Hereditas 19/20. , 19/20. 80p . [Journal]
5.

Fernandez, Agnès

,

CLOUX, ANAÏS

,

Lastiri, Marion

,

Monge, Claudette

and

Pincent, Guillemette

(2014) Quartiers anciens, quartiers durables. Manual. ANVPAH&VSSP, Bayonne, France, 76p. [Book]
This repository contains 1181 deposited items.
ICOMOS Open Archive: EPrints on Cultural Heritage supports OAI 2.0 with a base URL of http://openarchive.icomos.org/cgi/oai2