Welcome to the ICOMOS Open Archive: EPrints on Cultural Heritage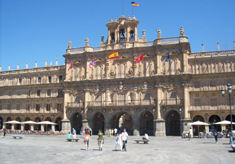 Plaza Mayor, Historic Centre of Salamanca, Spain
Welcome to the ICOMOS Open Archive: Eprints on Cultural Heritage, a global archive specialising in the conservation and restoration of monuments, sites and landscapes.
It is both the institutional archive of the scientific documentation produced by the International Council on Monuments and Sites (ICOMOS) and also a subject archive open to the entire international scientific community in the field of heritage conservation. Research institutes, organizations, universities and individual researchers involved in the conservation of cultural heritage and related fields, whether members of ICOMOS or not, are encouraged to make use of and contribute to this global Archive.
The ICOMOS Open Archive accepts peer reviewed scientific or technical documents, in all languages, on topics related to the field of conservation and restoration of monuments, sites and landscapes. The only requirement is that authors wishing to submit a document must register for an account.
Latest Additions
1.
UNSPECIFIED (2014) E-conservation journal. , 2. ISSN 2183‐1335 [Journal]
2.

Araoz, GF

(2011) Vernacular Heritage, the Caribbean and Tourism 2011 Vernacular Architecture Forum. In: 2011 Vernacular Architecture Forum, May 31-June 5, 2011, Falmouth, Jamaica. [Conference or Workshop Item] (Unpublished)

3.

Osorio, Katti

(2014) El valor universal excepcional del Sitio Arqueológico de Panamá Viejo y Distrito Histórico de Panamá; una ciudad junto al mar. Conmemorando 495 años de fundación de la Ciudad de Panamá La Vieja (suplemento) . pp. 12-13. [Article]
4.

Bros Williamson, Julio

,

Currie, John

,

Stinson, Jon

and

Jonnard, Marie

Thermal assessment of internal shutters and window film applied to traditional single glazed sash and case windows. UNSPECIFIED. UNSPECIFIED ISBN 9781849171748. [Book]
5.

Madoni, Catherine

(2014) Le plan de gestion du Bassin minier (2) : le point de vu de l'Etat. In: Les biens en série du patrimoine mondial : nouvel enjeu, nouveaux critères, 17-18 December 2012, Poitiers, France. [Conference or Workshop Item]
This repository contains 1208 deposited items.
ICOMOS Open Archive: EPrints on Cultural Heritage supports OAI 2.0 with a base URL of http://openarchive.icomos.org/cgi/oai2