Welcome to the ICOMOS Open Archive: EPrints on Cultural Heritage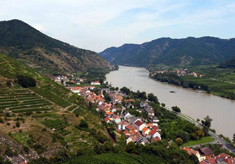 Wachau Cultural Landscape, Austria
Welcome to the ICOMOS Open Archive: Eprints on Cultural Heritage, a global archive specialising in the conservation and restoration of monuments, sites and landscapes.
It is both the institutional archive of the scientific documentation produced by the International Council on Monuments and Sites (ICOMOS) and also a subject archive open to the entire international scientific community in the field of heritage conservation. Research institutes, organizations, universities and individual researchers involved in the conservation of cultural heritage and related fields, whether members of ICOMOS or not, are encouraged to make use of and contribute to this global Archive.
The ICOMOS Open Archive accepts peer reviewed scientific or technical documents, in all languages, on topics related to the field of conservation and restoration of monuments, sites and landscapes. The only requirement is that authors wishing to submit a document must register for an account.
Latest Additions
1.
(2015) Keeping history alive: Safeguarding cultural heritage in post-conflict Afghanistan. Working Paper. UNESCO / UNESCO Office in Kabul, Paris, France / Kabul, Afghanistan, 253p. ISBN 978-92-3-100064-5. [Book]

2.

Abdulhalim, Haifaa

,

Abulhawa, Tarek

,

Cummings, Tricia

and

Osipova, Elena

(2015) TABE'A II report: Enhancing Regional Capacities for World Heritage. Technical Report. IUCN-ROWA / Arab Regional Centre for World Heritage, Amman, Jordan / Manama, Bahrain, 74p. ISBN 978-2-8317-1732-6. [Book]
3.
(2017) Urban Heritage and Sustainability. Conference Volume. ICOMOS CIVVIH 356p. ISBN 979-11-950076-1-5. [Book]
4.

Engel Purcell, Caroline

(2018) Deep Energy Renovation of Traditional Buildings: Addressing Knowledge Gaps and Skills Training in Ireland. Project Report. Heritage Council / ICOMOS Ireland. 154p. [Book]
5.

Larsen, Peter Bille

and

Wijesuriya, Gamini

(2015) Nature-culture interlinkages in World Heritage : bridging the gap (2015). World heritage Review (75). pp. 4-15. [Article]
This repository contains 1405 deposited items.
ICOMOS Open Archive: EPrints on Cultural Heritage supports OAI 2.0 with a base URL of http://openarchive.icomos.org/cgi/oai2