Welcome to the ICOMOS Open Archive: EPrints on Cultural Heritage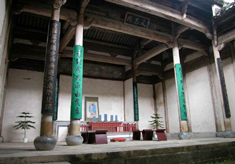 Ancient Villages in Southern Anhui – Xidi and Hongcun, China
Welcome to the ICOMOS Open Archive: Eprints on Cultural Heritage, a global archive specialising in the conservation and restoration of monuments, sites and landscapes.
It is both the institutional archive of the scientific documentation produced by the International Council on Monuments and Sites (ICOMOS) and also a subject archive open to the entire international scientific community in the field of heritage conservation. Research institutes, organizations, universities and individual researchers involved in the conservation of cultural heritage and related fields, whether members of ICOMOS or not, are encouraged to make use of and contribute to this global Archive.
The ICOMOS Open Archive accepts peer reviewed scientific or technical documents, in all languages, on topics related to the field of conservation and restoration of monuments, sites and landscapes. The only requirement is that authors wishing to submit a document must register for an account.
Latest Additions
1.

Hiriart Pardo, Carlos Alberto

(2015) El Centro Histórico de Morelia (México): Acciones transversales y estratégicas para su conservación integral y gestión turística frente a la crisis de inseguridad = Morelia´s historic center (Mexico): Transversal and strategical actions for its integral preservation and touristic management facing the insecurity crisis. In: Actas del II Congreso Internacional de Buenas Prácticas en Patrimonio Mundial: Personas y Comunidades. Editora Complutense, Universidad Complutense de Madrid, Madrid, España. ISBN 97884-60692645 [Book Section]
2.

Macdonald, Susan

,

Myers, David

,

Smith, Stacoe Nicole

,

Johnston, Chris

,

Hernandez Llosas, Maria Isabel

,

Loh, Laurence

,

Radachowsky, Jeremy

,

Castellanos, Bayron

,

Ševčenko, Liz

,

Yunis, Eugenio

and

Christina, Cameron

(2009) Consensus Building, Negotiaton, and Conflict Resolution for Heritage Place Management. Conference Volume. The Getty Conservation Institute, Los Angeles, 210p. ISBN 978-1-937433-30-7. [Book]
3.

Fawcett, Richard

(2001) The Conservation of Architectural Ancient Monuments in Scotland-Guidance on Principles. Manual. Historic Scotland 64p. [Book]
4.

Muñoz, Guillermo

,

Trujillo, Judith

,

Rodriguez Martinez, Carlos Augusto

,

Riveros, Nina

and

Muñoz, Natalia

(2012) Búsqueda, Documentación y Estudio Arte Rupestre del Municipio de Sutatausa, Cundinamarca - Informe final. Instituto departamental de cultura y turismo Cundinamarca Colombia. [Other] (Unpublished)
5.

Martinez Celis, Diego

(2014) ¿«El silencio de los ídolos» o el silenciamiento de las comunidades? La apropiación social del patrimonio como convidada de piedra en la gestión del patrimonio arqueológico. Errata - Revista de artes visuales #12 (12). pp. 258-265. ISSN 2145-6399 [Article]
This repository contains 1309 deposited items.
ICOMOS Open Archive: EPrints on Cultural Heritage supports OAI 2.0 with a base URL of http://openarchive.icomos.org/cgi/oai2